De Vertakking VOF
Al meer dan 35 jaar een begrip!
De Vertakking Fryslân is één van de oudste boomverzorgingsbedrijven van Friesland. Het bedrijf is met passie opgezet door B. Plaat in Hallum, vervolgens gezamenlijk en later voortgezet door Jetze Terpstra. In eerste instantie begonnen als boomverzorgingsbedrijf, groeide het uit met groenonderhoud en boomrooierij. In 1995 verhuisde de Vertakking van Hallum naar Ryptsjerk, waar Jetze het bedrijf ook nu nog vol overgave runt.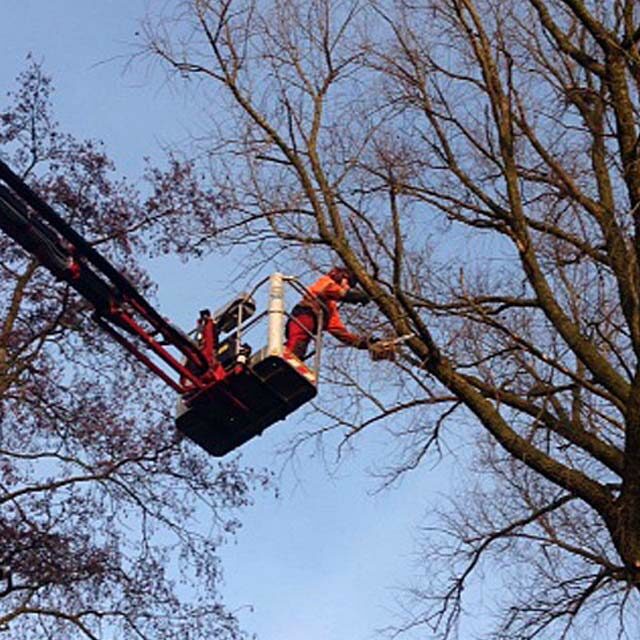 Missie en visie
De visie van Jetze is dat bomen een imposante waarde in het landschap om ons heen hebben en van groot belang zijn voor de natuur. Met de juiste begeleiding en verzorging geef je bomen wat ze nodig hebben, waarmee we ons groene cultuurgoed in stand kunnen houden. Ook in de natuur heeft het kappen van bomen een belangrijke functie heeft in de natuur. Door zieke of dode bomen te kappen en te vervangen door nieuwe gezonde bomen zorgen we ervoor dat er een gezonde structuur blijft.
Onze activiteiten
De Vertakking Fryslân snoeit en rooit bomen, verwijdert stobben of boomstronken met de stobbenfrees, verplant bomen en verzorgt monumentale bomen. Daarnaast kunt u ook bij ons terecht voor grondwerk en projectbegeleiding.
De Vertakking werkt in de particuliere sector maar ook voor onder andere instanties zoals gemeentes, provincies, waterschappen en het het Ministerie van Defensie.
'Groen heeft een positieve uitwerking op de mens. Het is daarom van het grootste belang zorgvuldig en liefdevol om te gaan met onze groene leefomgeving.'
Project uitvoering van begin tot eind
Wij dragen zelf zorg voor de uitvoering van het gehele project. Indien nodig schakelen wij voor specifieke werkzaamheden een onderaannemer in. Op deze wijze zijn en blijven wij verantwoordelijk voor het resultaat en tevens blijven wij voor de klant het vaste aanspreekpunt.
Het leveren van kwaliteit en de tevredenheid van onze opdrachtgevers staan altijd voorop !